COMMENTS
(Messages recently written
on departure by the guests )
See all Caminino's newest reviews on tripadvisor!
January 08th, 2008
This is a fabulous place to stay. Truly. Idylic setting. Wonderful
grounds. Relaxed and informative owners. Great location for
exploring the tourists centres of the region, and for sampling
some of the smaller, (invariably!) hill-top towns. Great place to
immerse yourself in this little corner of Italy.
Avoid if you have no soul!
L.S.
November 04th, 2007
The view from the suites is superb. Thank you for creating this
wonderful and unique experience and environment, which
enabled us to escape fully from our hectic and challenging
lives. The true spirit cleanser. We love it just the way it is. The
garden with english roses and view of olives trees, the pond for
meditation and view of the castels. Each stone has an history.
I only hope it never changes and that we can return time and
time again to this special place on earth. Lots of thanks and
appreciation to the gentle owner Emiliano. I loved the nice
dogs Allegra and Gea who followed us in our trekking in the
beautiful forest.
B.B.
September 22nd, 2007
Thank you for a wonderful visit to Pieve di Caminino and
Tuscany. We enjoyed staying in the Gamekeeper's House and
I'm certain that we will return in a few years. Your tips helped
us experience Tuscany well beyond our expectations. Thank
You. I can't imagine a more beautiful, peaceful, and comfortable
place than Caminino.
Please give our regards to Daniela and Piero. Auquri !
C., T.,. E., & J
August 18th, 2007
We have had a wonderful 2 weeks at Caminino, from the
warmth of your welcome until our reluctant departure. The
atmosphere here is so tranquil and we have anjoyed every minute
of our stay. It is a perfect base from which to explore the beautiful
surroundings area and just spend lazy days by the pool, enjoying
on our spectacular terrace in La Sacrestia suite. Than you for
recommending wonderful places to eat, all of them gave us such a
warm welcome at the mention of Emiliano from Caminino. We
will miss your dog Allegra and Gea, and a final note: we became
engaged on our last evening, and are looking forward to
returning for our honeymoon as Mr & Mrs W.
P. & L.
August 16th, 2007
What a beautiful, pristine place in whch to begin our
honeymoon! Thank you for the hospitality and for providing
the perfect base from which to explore this little slice of
paradise. We can't wait to return!
L. & M. R.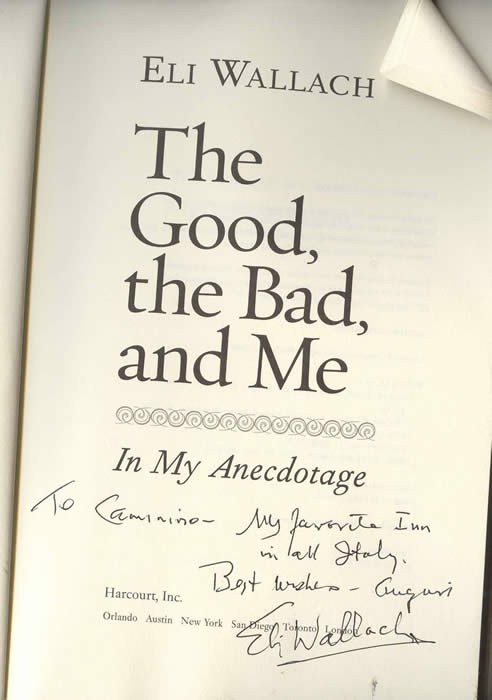 Friday 30th March 2006
Dear Emi,
We want to tell you again what an absolutely wonderful
time we had while staying at your beautiful residence, Pieve
di Caminino. You made our 35th wedding anniversary one
we'll never forget!
Everything was perfectly lovely in everyway.
Your welcome was so warm and you were so helpful from
what sights we should see and wonderful directions to wine
tasting and dinner reservations, not to mention the lovely tour
you gave Doug around the grounds.
How very special our time was in your magnificent home!!
Italy is wonderful. We can't stop talking about the beautiful
Tuscany area. Simply incredible sights! We hope to return
again before too long, there's so much more we want to
experience in your amazing country! Thank you so very much
for your part in making our anniversary celebration full of the
most wonderful memories.
We have truly fallen in love with Italy!
C. & D. M.A.
Tuesday 28th June 2005
To Emi (& Family of Hotel Pieve di Caminino),
Many warm thanks for your gracious hospitality. We felt
very welcome and comfortable in your villa... it seemed like
paradise. Your generosity and helpful tips to the local area
restaurants and sites were appreciated and very useful. Our
5-night visit (June 23 thru June 28, 2005) was so enjoyable
that we look forward to returning as soon as possible!
The restoration, history & charm of Pieve di Caminino was
magical... it felt like a fairytale.
Warmly,
G & L. B.
Friday 27th May 2005
To Emi,
I wanted to let you know what a wonderful time I had
staying at your apartments. My friend J.S. and I were for 2
days and I wish it could have been longer.
The hard work you have put in to the monastery is
evident in its magnificience. I have not had a better
vacation. The buildings and the grounds
are absolutely stunning. I appreciate your organizing a wine
tasting at the Moris farm and helping us arrange to have
Mr. M. to guide us to Massa Marittima for the evening.
You are an excellent host. I look forward to seeing you
again in the future, hopefully for a longer stay.
Sincerly,
M. B.
Monday 2nd May 2005
Dear Daniela,
I would like to thank you for your hospitality during our
stay in Caminino and for letting us visit your wonderful
home. My parents and I absolutel loved the farm, the
beauiful landscape surrounding it, and most of all,
the warm and friendly welcome we received from you,
Emiliano and Piero. This is a place taht we will never
forget and look forward to returning very soon.
Please give my regards to your family.
Sincerly,
V. J.
* * * H O M E * * *